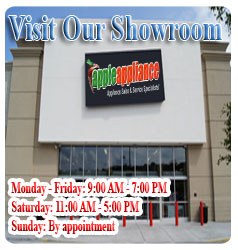 Air Conditioning

American Standard Air Condition
Carrier Air Conditioning
Goodman Air Conditioning
Keeprite Air Conditioning

Cooktops

Electric Cooktops
Gas Cooktops

Dishwashers

Built In Dishwashers
Portable Dishwashers

Dryers

Front Load Dryers
Portable Dryers

Freezers

Chest Freezers
Upright Freezers

Furnace

American Standard Furnace
Carrier Furnace
Goodman Furnace
Keeprite Furnace

Garburators
Hoods

Canopy Hoods
Chimney Island Hoods
Chimney Wall Hoods
Downdraft Hoods
Hood Accessories
Under Cabinet Hoods

Kitchen Suites
Laundry Pedestals
Microwaves

Built In Microwaves
Counter Top Microwaves
Over the Range Microwaves
Trim Kits

Parts
Refrigerators

Bottom Mount Refrigerators
Built In Refrigerators
Counter Depth Refrigerators
French Door Refrigerators
Refrigerators with No Freezer
Side by Side Refrigerators
Top Mount Refrigerators

Specials
Stoves

Commercial Ranges
Free Standing Ranges
Slide In Ranges

Trash Compactor
Wall Ovens

Double Wall Ovens
Microwave Wall Ovens
Single Wall Ovens
Warming Drawers

Washer & Dryer

Front Load Washer & Dryer
Stackable Washer & Dryer
Top Load Washer & Dryer

Washers

Front Load Washers
Portable Washers
Top Load Washers

Water Filters
Promotion Of the Month
Professional Canadian Appliance Repair and Service in GTA and surrounding areas at Affordable Price
When in need of an appliance repair, homeowners look for a professional and courteous appliance repair business that can perform quick appliance diagnostics and repair accordingly. We repairs issues such as broken dryer belts, washers that do not drain or dishwashers that leak, as well as all other appliance repairs. We repair all makes and models of appliances.
We specialize in Fridge, Freezer, Refrigerator, Dishwashers, Microwaves, Washer and Dryer repairs and provide parts.
Some of the most common appliance brands that we service are Sub-Zero , KitchenAid , Whirlpool , North Land , Bosch , GE Profile and many more...
We serve: Toronto, Richmond Hill, Thornhill, Vaughan, Aurora, Maple, Woodbridge, King City, North York and Markham.
Apple Appliance is an established and respected appliance repair service company that is committed to prompt, professional and courteous service at a competitive price. Our technicians are highly knowledgeable and experienced.
Our top services:
Subzero Fridge Repair
Refrigrator Repair
Kitchen Aid Fridge Repair
Bosch Appliance Repair
Appliance Parts