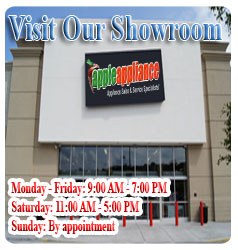 Air Conditioning

American Standard Air Condition
Carrier Air Conditioning
Goodman Air Conditioning
Keeprite Air Conditioning

Cooktops

Electric Cooktops
Gas Cooktops

Dishwashers

Built In Dishwashers
Portable Dishwashers

Dryers

Front Load Dryers
Portable Dryers

Freezers

Chest Freezers
Upright Freezers

Furnace

American Standard Furnace
Carrier Furnace
Goodman Furnace
Keeprite Furnace

Garburators
Hoods

Canopy Hoods
Chimney Island Hoods
Chimney Wall Hoods
Downdraft Hoods
Hood Accessories
Under Cabinet Hoods

Kitchen Suites
Laundry Pedestals
Microwaves

Built In Microwaves
Counter Top Microwaves
Over the Range Microwaves
Trim Kits

Parts
Refrigerators

Bottom Mount Refrigerators
Built In Refrigerators
Counter Depth Refrigerators
French Door Refrigerators
Refrigerators with No Freezer
Side by Side Refrigerators
Top Mount Refrigerators

Specials
Stoves

Commercial Ranges
Free Standing Ranges
Slide In Ranges

Trash Compactor
Wall Ovens

Double Wall Ovens
Microwave Wall Ovens
Single Wall Ovens
Warming Drawers

Washer & Dryer

Front Load Washer & Dryer
Stackable Washer & Dryer
Top Load Washer & Dryer

Washers

Front Load Washers
Portable Washers
Top Load Washers

Water Filters
Promotion Of the Month
At Apple Appliance we offer Sales & Service of your major appliances. We also have the most common brands on sale. just click on the logo and it will take you to our online store for that specific brand.